Welcome to the PriceSpider Help Center
Our Help Center is the home of our Support Ticket portal and PriceSpider's Knowledge Base - FAQs, Troubleshooting Guides, and Technical Resources.
This guide will help you get set up with your username and password to access your PriceSpider Support Ticket History.
Also see our Help Center FAQs for more information.
Creating a PriceSpider Help Center Login
You'll want to start by bookmarking ➡ help.pricespider.com
Once you arrive on our Help Center landing page, click Sign In on the upper right-hand corner of the page.
If you have already set up a password on help.pricespider.com, simply input your information and click the

Sign in

button.

If you have already communicated with PriceSpider Support through a support ticket, you may already be in the system and just need to get set up with a password.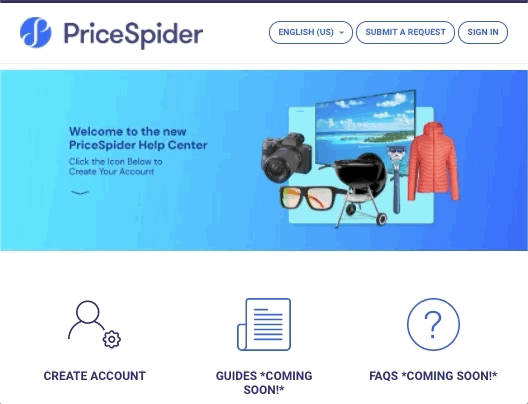 PriceSpider Help Center Sign In
Submitting a new Request
We make it easy for you to submit a request for support, you can follow any of the links shown here: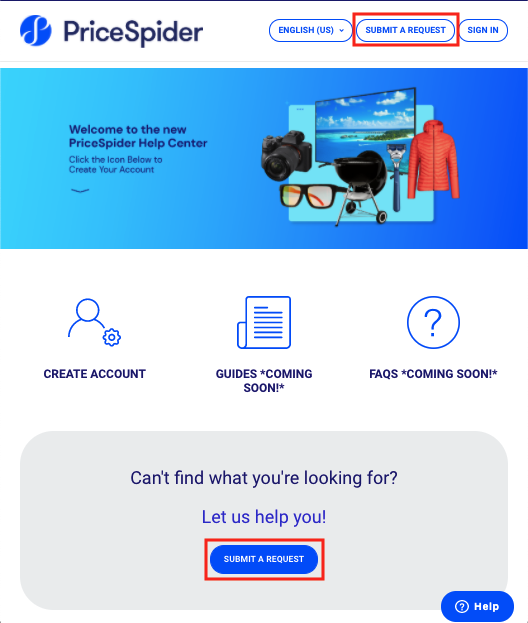 Submit a Request links
After clicking on the Submit a Request button, a form will appear. The first selection you will make is to choose the product line. In this example, we're going to choose "Get Support for your PriceSpider products".

When submitting a request for support, please be sure to provide the following information (when applicable):
Priority

Urgent: The Platform/Modules are completely inoperative. This Priority Level can only be assigned to situations in which the Platform and applicable Solutions have already been operating in production/"live" environments.

High: The Platform/Modules are usable, but functionality is degraded or restricted in a material manner.

Normal: The Platform/Modules are usable, but one or more functions may not operate as expected (however functionality is not degraded or restricted in a material manner).

Low: The Platform/Modules are usable, but some functionality is degraded or restricted in an immaterial manner.

Submission Type

Service Request or Problem / Issue

Description

Provide short description of the issue including but not limited to:

Current behavior
Expected behavior
Expected data that's missing

Steps to reproduce issue, if applicable or necessary
Location where issue was produced and if it's reproducible (work, home, coffee shop, secure network, address)
Approval from Support POC (if applicable)

Attachments

A screenshot of the current state and notations pointing to the issue
Any additional artifacts that would be applicable or helpful to resolve submitted request
Click Submit!
Viewing Your Support Tickets via Help Center
You can view all of your past tickets, check status of your open ticket submitted to PriceSpider Support, and even update your open ticket through the portal rather than email!
Click your name in the upper right-hand corner and choose My activities in the dropdown menu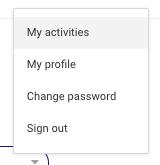 Profile settings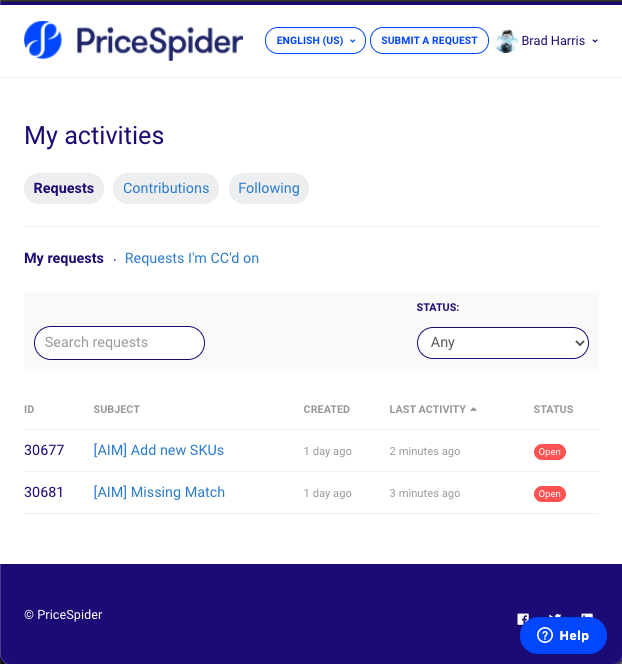 My activities page
Click any ticket marked as Open to view the conversation history and to update with any additional information or attachments. You can even mark the ticket as Solved if everything has been answered!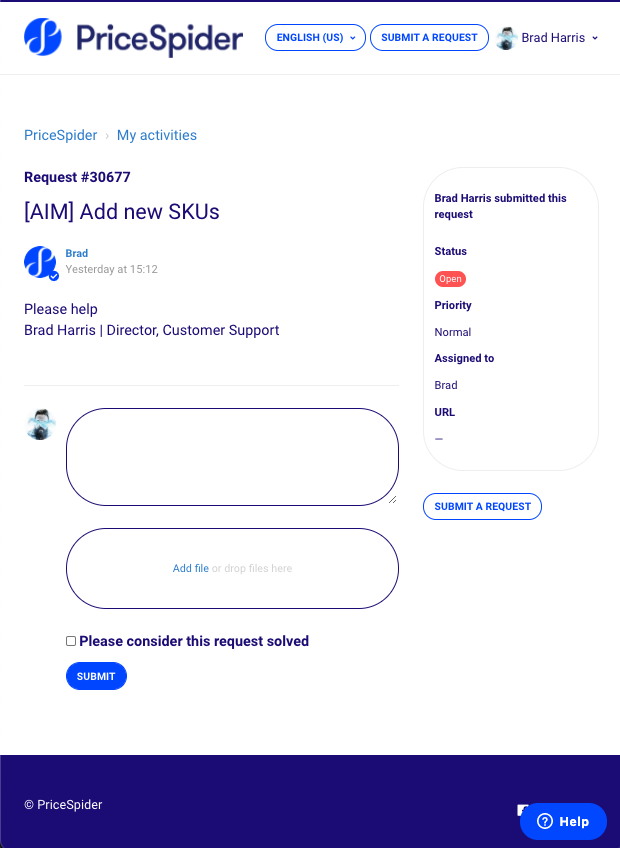 Ticket detail page